Perth All TEC Day 2017
Monday, 13 March 2017
The Astral
Ground Floor
Crown Perth Convention Centre
Great Eastern Highway
BURSWOOD
Parking:
Free parking is available on P6, P3 & P8.  the nearest carpark is P6 - 5 minutes walk from the event.
Program
8:00 am - Registration and networking
8:30 am - Program commences
1:00 pm - Lunch
2:00 pm - Networking session                      
3:30 pm - Event concludes
Harold Hillman
Harold believes authenticity is no longer optional for today's leaders facing a landscape of constant change. His combined corporate, academic and military experience uniquely positions him to help CEOs learn how to lead change rather than be led by it. 
Harold has held senior executive positions with global businesses including Amoco, Prudential Finance and Fonterra, and was Director of Leadership Programs at the prestigious United States Air Force Academy. Over the past ten years, he has coached CEOs on authentic leadership.
Andrew Pratley
Andrew uses corporate data to help CEOs make better decisions. He will share straightforward analytics that any SME can use to make the most of their data.
Andrew lectures on Business Analytics at the University of Sydney Business School and is an expert in utilising small sample sizes for evidence-based decision making having done research in predictive modelling. He has spent the past decade adapting and applying his methodologies for SMEs as well as Fortune 100 companies.
Deidre Willmott
Deidre is CEO of the Chamber of Commerce and Industry WA and a board member of CEOs for Gender Equity. A passionate advocate for local businesses, Deidre understands the challenges and opportunities SMEs face and will share the results she has seen when businesses address gender equity. 
Philip Hesketh
One of the most entertaining speakers to stand in front of a TEC audience, Philip is a master storyteller, weaving practical takeaway ideas with humour. He will share his latest insights on persuasion and influence including how little moments matter.
Based in England, Philip ran an advertising agency in Leeds for 16 years before leaving 14 years ago to travel the world as a professional speaker.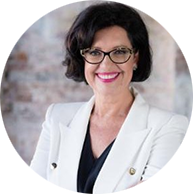 Stephanie Christopher - MC
Stephanie is the Chief Executive Officer of The Executive Connection (TEC) across Australia and New Zealand.  Stephanie is an accomplished business leader with over 15 years' experience in the corporate sector. 
Her exposure to cutting-edge thinking on human capital has fired her passion about leading an organisation that both operates commercially and provides a real social benefit in enhancing the lives of CEOs and business owners.